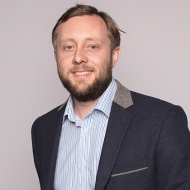 Contextual and Theoretical Studies (CTS) Coordinator
UAL Affiliation: London College of Communication
Contact
UAL webpage
External website
Dr Ian Hague is the third year Contextual and Theoretical Studies Coordinator in the Design School at LCC. His research takes a materially oriented approach to comics and graphic novels, with a particular focus on the ways in which comics' material forms affect the experiences of their readers. His first monograph, Comics and the Senses: A Multisensory Approach to Comics and Graphic Novels, was published by Routledge in 2014, and he is the author of numerous articles and book chapters on subjects such as materiality, adaptation and media forms. Ian is also an experienced editor, having co-edited Representing Multiculturalism in Comics and Graphic Novels (Routledge 2015), Contexts of Violence in Comics and Representing Acts of Violence in Comics (both Routledge 2019). He was the founder of Comics Forum, which he has run since 2009, and is a peer reviewer for various publishers and journals. Ian's current research looks at digital comics as they relate to materiality, economics, histories and geographies.
Research keywords: materiality, publication formats, experience design, sensory theory, digital comics, adaptation