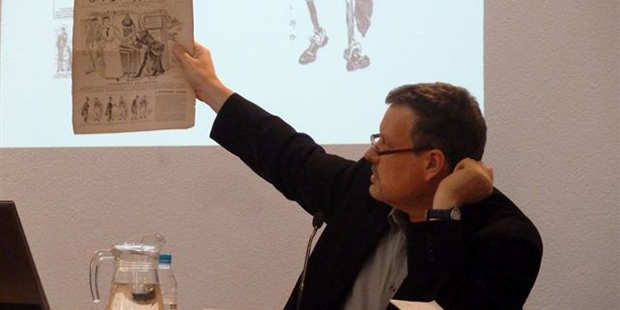 Professor of Popular Culture
UAL Affiliation: Central Saint Martins
Contact
UAL Webpage
Roger Sabin is one of a small group of scholars who established Comics Studies in the UK. His book Adult Comics (Routledge) is published in the 'Major Works' series, and he founded the Journal of Graphic Novels and Comics. His other comics-related books include Comics, Comix and Graphic Novels (Phaidon), The Lasting of the Mohicans (co-authored, University Press of Mississippi), Below Critical Radar: Fanzines and Alternative Comics, 1976-Now (co-authored, Codex), Marie Duval (co-authored, Myriad), Marie Duval: Maverick Cartoonist (co-authored, Manchester University Press), and he is part of the team that put together the Marie Duval Archive (www.marieduval.org). He is series editor for the booklist Palgrave Studies in Comics, and serves on the boards of key journals. He consults on curating (British Museum, British Library, Tate Gallery), and reviews for the media. The 'Sabin Award' is given annually at the International Graphic Novels and Comics Conference.
Research keywords: comics, graphic novels, popular culture, subculture, counter-culture, Victorian entertainment, film and TV studies.