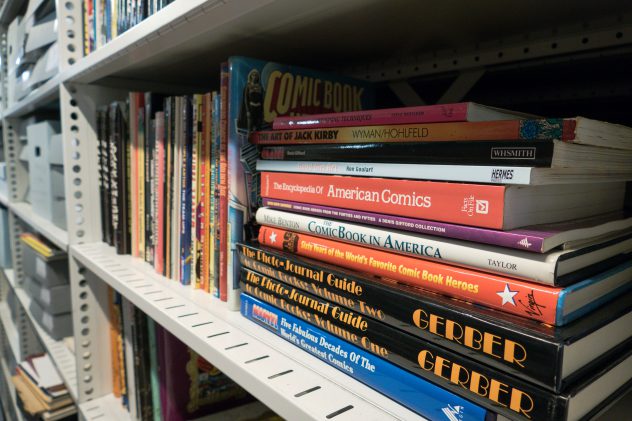 UAL Special Collections and Archives
In our archives and special collections centre you can find materials to enrich your learning, teaching and research. We offer a high-quality learning experience to students from undergraduate to doctoral levels. We're also open to students from other universities and members of the public. To find out more about UAL's Special Collections and Archives, please click here.
Comic Book Collection (London College of Communication)
The collection includes a wide range of comics from the second half of the 20th century covering mainstream and some underground titles from the UK and USA, as well as specialist and international publications. Graphic novel and comic book ephemera also feature, such as posters and free gifts. You can find a collection description using the online catalogue.
Les Coleman Collection (London College of Communication)
The Les Coleman Collection contains a significant collection of comics from North American underground [1968-1980] and alternative [1980-present] comic book movements. Perhaps the most significant component of the collection is a large collection of work by Robert Crumb. There are also collections of the work of Julie Douchet and Aleksandar Zograf, complete runs of classic counter-cultural comics Arcade, Bijou Funnies and Raw. In addition to comics the collections also includes various signed and limited edition prints by comic book artists such as Charles Burns, Joe Coleman, Joost Swarte, Archer Prewitt and Aline-Kominsky. There are a large number of art, illustration and humour books from America, Australia, the UK and Europe (predominantly France and Belgium) including work by artists Roland Topor, Charles Addams, Edward Gorey, Saul Steinberg, HM Bateman, Glenn Baxter, Ivor Cutler, Maurice Henry, Sempé and Siné. You can search the collection using the online catalogue.
The Marie Duval archive
Marie Duval Archive At: www.marieduval.org. Archive devoted to pioneering female cartoonist Marie Duval (1847-1890) created by Roger Sabin, Simon Grennan and Julian Waite in 2016. AHRC funded project.